How to Get the Most Out of Your Mellö Magnesium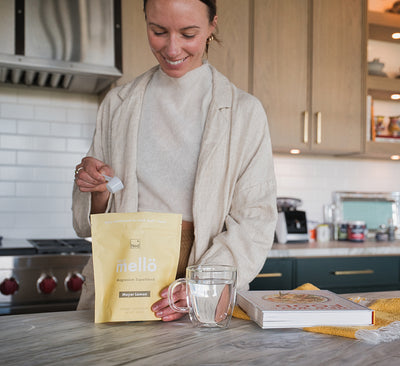 Drinking Mellö daily provides over 300 whole-body benefits. It promotes healthy aging by helping to support your metabolic health, provides immune support by helping to metabolize Vitamin D and form healing antibodies, improves gut health by helping to boost your microbiome, boosts brain function by helping to increase synaptic density, promotes calm by helping to reduce stress and anxiety levels, improves sleep by helping to calm your nervous system, and so much more!
YOUR DAILY MELLÖ RITUAL
1. Add 1 sachet or scoop to a glass of water 1-2 times daily.
2. Stir and drink up the goodness!
And remember the gold rule: consistency is the difference between feeling good and feeling great. Drink a glass a day, every day. Simple. 
Daily maintenance for mind, body and mood.
Why Magnesium
Magnesium is the 4th most abundant mineral in our anatomy and it supports over 300 essential functions throughout the human body. Yet, as many as 75% of Americans are deficient in this critical mineral.

Monoculture, mass agriculture, and overprocessing within our food supply chain have resulted in a lack of magnesium in our daily nutritional intake. Magnesium deficiency can lead to issues that create more issues, including mood disorders, sleep problems, muscle cramps, and the inability to absorb essential vitamins and nutrients, like vitamin D.
Essential Daily Support
Mellö is a powerful daily magnesium supplement with amino acids and trace minerals to propel memory, mood, brain function, stress response, sleep, energy, and nerve and muscle health. Made from three highly functional and bioavailable forms of chelated magnesium (including magnesium threonate, the only form shown to permeate the blood-brain barrier) and combined with L-theanine, GABA and 70+ trace minerals essential to our physiology.
Optimal Absorption
Mellö contains three forms of chelated magnesium that are further complimented by amino acids, L-theanine and GABA. Chelated magnesium is bound to amino acids so they don't break down in our digestive tracts and is carried directly to the areas where the body needs it most.
Sourced From Nature
Mellö is derived from elemental sources from nature and is designed to offer our bodies a simple and natural path to replenishing its magnesium levels at a cellular level while offering functional support for stress and anxiety.