Terra Fina Farm
Location: Paonia, Colorado
Terra Fina is a multi-generational, family-owned farm, and modern homestead. The farm combines the ways of old with the technology and knowledge of today to create a life in which plants, animals, and humans thrive. 
Farmers: Liz, Jonathan, their children Anora and Rowan, and Nana Vicky
The farm is guided by the idea that the practices of regenerative agriculture should carry over into all aspects of life, from the food we grow, to the homes we build, to the way we treat each other,
and the planet on which we live.
Botancials Sourced: Hemp
We single source Terra Fina's USDA-certified hemp for all of our full-spectrum hemp products.
Meeting House Farm
Location: Maine
Meeting House is a growing collaborative of over 25 primarily women-owned regenerative farms in Maine. Their collective mission is to connect herbalists throughout the Northeast and empower people to make healing plant medicine with locally grown herbs.  
Farmers: Emily Springer and Team
After leaving her corporate job of 20 years, Emily restored a historic herb farm and created the Meeting House Herb Growers Collaborative by inviting farmers in Maine to join her online herbal farmer's market. Two years later, the collaborative represents over 25 farms that meet exacting standards for regenerative growing and soil health through biodynamic and certified organic practices.
Botanicals Sourced: Lemon Balm, Red Clover Blossom, Echinacea, Elderflower, Calendula Oil, and Arnica Oil
We use their lemon balm and red clover blossom in Balance Blend. We also use their calendula and arnica in our Body Butter. Meeting House Farm echinacea and elderflower are used in Immunity Blend.
Oshala Farm
Location: Applegate Valley, Oregon
Oshala is a certified organic farm dedicated to raising consciousness around regenerative agriculture and the dignity of farmworkers. Oshala is a bilingual farm that cultivates 84 varieties of medicinal plants. Despite pressure to meet the bottom line, Oshala leaves 30% of the farm out of production every year to allow the soil to rest and restore.
Farmers: Elise, Jeff, and Team
Oshala is the combination of Elise's passion for herbalism and Jeff's passion for farming. They tend the fields with their son Will and a dedicated team of assistant farmers from Michocan, Mexico.
Botanicals Sourced: Ashwagandha, Oat Straw, Nettle, Astragalus, and Elderflower
We use Oshala Farm's ashwagandha in De-Stress Blend, their oat straw in Sleep Blend, and their nettle in Balance Blend. Their astragalus and elderflower are used in our Immunity Blend.
Foxtrot Farm
Location: Ashfield, MA
Foxtrot is a 4-acre, women-led, queer, and certified organic farm nestled in the hills of Ashfield, Massachusetts. They only use no-till farming practices and organic compost to amend the soil – farming mostly by hand with the utmost respect for the wonders of soil ecology.  
Farmers: Abby, Olive, and Ced
Farming the same land that her great-grandmother did after immigrating from Ukraine, Abby and her team are committed to no-till, regenerative farming practices. She envisions local agricultural systems that are resilient, ecologically sound, socially just, and wholly integrated into their communities.
Botanicals Sourced: Passionflower, Raspberry Leaf, and Nettle
We use Foxtrot passionflower in our Sleep Blend and raspberry leaf and nettle in our Balance Blend.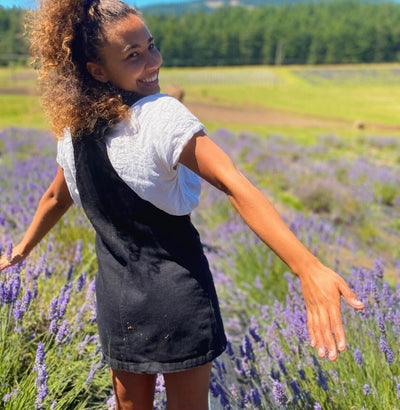 OrcaSong Farm
Location: Orcas Island, WA
OrcaSong is a climate resiliency and education initiative located on almost 200 acres of botanical fields, vegetable gardens, and green forests on Orcas Island off the coast of Washington. Inspired by the wonders of nature and its abundant capacity for healing, Orca Song Farm grows and distills the highest quality organic botanical extracts.
Farmers: Katey and the OrcaSong Team
OrcaSong is a not-for-profit, women-led, LGBTQ+ owned, community-driven, certified-organic farm. 
Botanicals Sourced: Lavender Oil
We use OrcaSong lavender oil in our Body Butter. By using whole essential oils (instead of aromatic isolates), we choose health over convenience.
WHO WE ARE
We built Ned around the core values of quality, sustainability, and transparency. Developing close relationships with small organic and regenerative farmers is key to making Ned what it is. It's good for people, good for the planet, and good for our souls. 
The Farm-to-Ned Alliance is led by Vida Chavez-Garcia, Ned's Head of Production. Prior to joining Ned, Vida owned and managed Huerta de Vida, a small, educational permaculture farm in the Tunuyan, an hour south of Mendoza, Argentina. Vida is also a bilingual agroecology instructor, soil health nerd, and urban farmer who raises composting worms. Vida's passionate about The Farm to Ned Alliance and working with regenerative farmers to grow the very best botanicals in the most healing ways. Vida's dream is to one day start a reforestation project. Learn more about Vida. >
We Make the World's Best Natural Remedies.