How to Get The Most From Your Daily Blend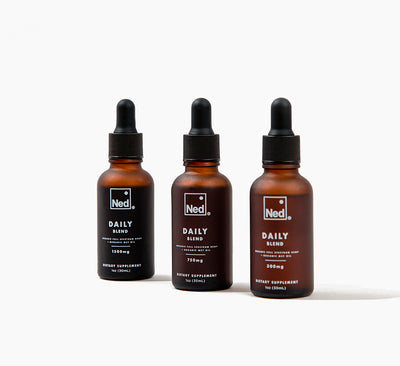 Taking Daily Blend daily helps you build your health on a strong foundation by bringing your body back into balance (think of it as restoring your body to its optimal factory settings!) and providing functional support for sleep, stress + anxiety, and pain and  inflammation, the root cause of many diseases.
YOUR DAILY BLEND RITUAL
1. Drop 1 ml (one full dropper) under your tongue once a day, every day. Take more as needed in times of severe strain or stress.
2. Hold it under your tongue for 1 minute while you enjoy a moment of peace.
3. Swallow and smile!
And remember the golden rule: consistency is the difference between feeling good and feeling great! Take a dropper a day, every day. Simple.
FAQs
Got questions about Daily Blend? We've got answers.
How often should I take Daily Blend?
Most people report the best results when they take one full dropper 1-2 times per day. If you're just getting started with Daily Blend, we recommend starting with a lower dose and gradually increasing to one full dropper over the course of a week.
What's the difference between 300mg, 750mg, and 1500mg?
Every Daily Blend comes in a 30ml bottle, but the 750mg and 1500mg come in higher concentrations compared to the 300mg. Our most loyal Daily Blend customers tend to prefer the 1500mg as it provides the best value compared to our 300mg and 750mg.
What should I expect from taking Daily Blend?
A lot depends on your individual wellness goals and when you take your Daily Blend.

If you generally feel good and you are looking to promote a sense of calm and balance day to day, taking a dropper mid-day may help you achieve that goal.

If you are looking to support more restful sleep, taking a dropper of Daily Blend 45-60 minutes before bed may help you achieve that goal.

As always, our customer happiness team is available and ready to help you tailor your Daily Blend use to your needs.
How long will my Daily Blend last?
Ned customers find the best results from consistently taking their Daily Blend over the course of 6+ months. If you take 1ml per day, each bottle should last around 30-days, but your experience and use may vary.
WHAT'S INSIDE
A peek inside Daily Blend
CANNABINOIDS
Cannabinoids are the compounds within hemp flowers that offer functional support for our body's endocannabinoid systems (ECS).
CBD, CBC, CBG, CBDV
TERPENES
Terpenes and cannabinoids work together in maximizing the effects of one another to help support stress, balance, mood health, and beyond.
Caryophyllene, Bisabolol, Humulene
ORGANIC MCT OIL
MCT is the carrier oil for Ned Full Spectrum Hemp Oil, which maximizes the extract's bioavailability for optimal absorption.
From non-GMO, organic coconuts
Crafted with Integrity
Quality products are built on quality relationships with people and the planet.
Paonia, Colorado Paonia, Colorado Outdoor grown in
Ned's organically-grown hemp is cultivated on a small farm in the rich farmland of Paonia, Colorado, tucked away on the Western Slope of Colorado.

Paonia is nicknamed the Valley of Abundance, known for its abundant sunshine, nutrient-dense soil, and freshwater.
Jonathan Jonathan Farmer
Jonathan is a renaissance man in every sense of the word. A jack-of-all trades, he lives on his small farm with his endearing wife, two beautiful kids, and sweet farm dog. A naturalist at heart, Jonathan pours his wisdom and love into his craft, growing the best organically-grown hemp in the world.
Elektra, Special Sauce Elektra, Special Sauce Hemp strains
Elektra (50%) - features dense flowers with naturally elevated levels of CBG and a myrcene-dominant terpene profile, Elektra was specifically crossed to produce a superior full-spectrum hemp extract. She's a beauty.

Special Sauce (50%) - Special Sauce - One of the best flowers for oil extraction on the planet, Special Sauce is a CBD dominant strain that has been a staple in Ned hemp products since 2018.
Cold organic ethanol Cold organic ethanol Extraction process
We use a gentle and slow extraction method using food-grade organic ethanol at -40°F. We exclusively extract from hemp flowers, otherwise known as the "buds," which are the most cannabinoid- and terpene-rich part of the hemp plant.

After the cold extraction, the residual ethanol is gently lifted from the extract resulting in an incredibly aromatic, clean, and quality hemp oil.