How to Get the Most From Your Balance Blend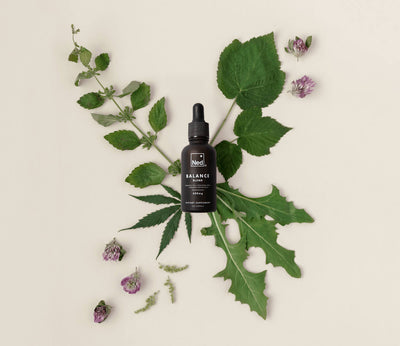 Taking Balance Blend Daily provides you with a complete combination of balancing minerals, healing antioxidants, nourishing fatty acids & revitalizing vitamins to support your hormonal health long-term and ease symptoms related to PMS and menopause.
YOUR DAILY BALANCE BLEND RITUAL
1. Drop 1 ml (one full dropper) under your tongue once a day, every day.
2. Hold it under your tongue for 1 minute while you enjoy a moment of peace.
3. Swallow and smile!
And remember the golden rule: consistency is the difference between feeling good and feeling great! Take a dropper a day, every day. Simple.
FAQs
Questions about your Balance Blend? We've got answers.
How does CBD Hemp Oil affect hormones?
Hemp oil for hormonal imbalance has not been well researched to date. However, research suggests that due to the effects of various hemp cannabinoids like CBD on our body's endocannabinoid system, hemp oil and hormones may be closely connected.

The system responsible for maintaining natural hormone balance is the endocrine system. The endocrine system is our body's network of hormone glands and its workings are modulated by the endocannabinoid system. Thus, by interacting with our body's endocannabinoid system, hemp oil is thought to exert indirect beneficial effects on hormone balance.

The endocrine and endocannabinoid systems are both chemical messenger systems responsible for maintaining homeostasis or whole-body balance. Preliminary studies suggest that CBD administration may lead to attenuated levels of the stress hormone cortisol and improved insulin production. CBD has also been linked to modulating serotonin, dopamine, and melatonin.
How does Balance Blend promote natural hormone balance?
Ned's hormone balance oil blend is formulated from a potent infusion of organic full spectrum hemp, 600 mg of premium CBD, and powerful botanicals including evening primrose oil, chia seed oil, black seed oil, red raspberry leaf, stinging nettles, milky oats & oatstraw, red clover blossom, dandelion leaf, and lemon balm.

Ned's Hormone Balance Blend ingredients contain important phytonutrients, essential fatty acids, vitamins, minerals, isoflavones that mimic estrogen, and have unique therapeutic properties that have been linked to promoting natural hormone balance. Some of these properties include antioxidant, anti-inflammatory, anxiolytic, and cleansing effects that promote whole body balance.
Is Balance Blend good for women in menopause?
It is definitely a wonderful daily blend for balancing hormones, no matter what stage of life you are in. Because of the intricacy and complexity of each human body and due to federal regulations, we encourage you to speak with a trusted physician about our ingredients, your current hormone levels and how they may interact.
How long will my Balance Blend last?
If you're following the suggested use of 1mL per day, the bottle will last 30 days.
Crafted with Integrity
Balance Blend was slow crafted with love from seed to bottle by three generations of women.
Paonia, Colorado Paonia, Colorado Outdoor grown in
The full spectrum hemp for the Balance Blend were grown just outside beautiful Paonia, Colorado. The flatlands around Paonia have a vast agricultural history and are perfectly set west of the Rockies, offering a stunning mountain scape to the east.
Liz, Nora, Vickie Liz, Nora, Vickie Farmers
Annie Annie Formulated by
Annie spent years traveling through Central and South America, studying the healing power of plants.

She's an expert in all things homesteading thanks to her residency at Hidden Villa, a farm and wilderness reserve nestled in Los Altos Hills that once housed Cesar Chavez during the United Farm Workers movement. Since becoming a mother, Annie has really stepped into her healing power, armed with ancestral wisdom passed down through generations.
Cold organic ethanol Cold organic ethanol Extraction Process
We use a gentle and slow extraction method using food-grade organic ethanol at -40°F. We exclusively extract from hemp flowers, otherwise known as the "buds," which are the most cannabinoid- and terpene-rich part of the hemp plant.

After the cold extraction, the residual ethanol is gently lifted from the extract resulting in an incredibly aromatic, clean, and quality hemp oil.