GET THE MOST FROM YOUR SHUTEYE CHAI
Drinking Shuteye Chai every night before bed improves your sleep quality so you can wake up feeling refreshed and energized for another productive day.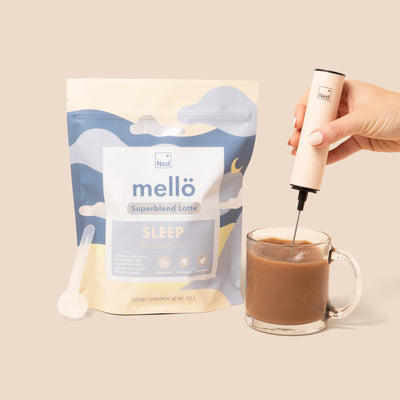 YOUR NIGHTLY SHUTEYE CHAI RITUAL
For sweet dreams, cozy up with a cup an hour before bed. 
1. Add two scoops to a piping hot mug of water.
2. Mix with a frother or spoon. 
3. Sip it straight or customize it to your taste with a dash of cream, a drop of honey, a smidgen of sugar, or a swirl of cinnamon! 
And remember the golden rule: consistency is the difference between good sleep and great sleep! Drink a cup at night, every night. Simple.
PURE UNFILTERED GOODNESS
Shuteye Chai is slow crafted from the most nourishing all-natural, unprocessed, whole ingredients. The heavier masala spices may leave a fine sediment at the bottom of your cup. Give your drink a stir every now and then between sips – or even a swirl like a true connoisseur. Try adding a dash more water at the end to keep the flavor party going! Learn more about all the amazing ingredients in Shuteye Chai.
IT'S ONLY NATURAL
A Peek Inside Shuteye Chai
ADAPTOGENS + MAGNESIUM
A powerful blend of adaptogens, aminos and magnesium to help support calm & relaxation and promote deep, restful sleep.
Ashwagandha, Chamomile, Dandelion Root, Gotu Kola, GABA, L-Theanine, Magnesium Glycinate
FUNCTIONAL MUSHROOMS
A fortifying blend of functional mushrooms to help reduce anxiety and stress and promote deep, restful sleep.
Chaga, Reishi
AYURVEDIC SPICES
A warming blend of ancient spices to help relieve tension and promote deep, restful sleep.
Black Pepper, Cardamom, Cinnamon, Clove, Ginger, Licorice, Nutmeg