How to Get the Most Out of Your De-Stress Blend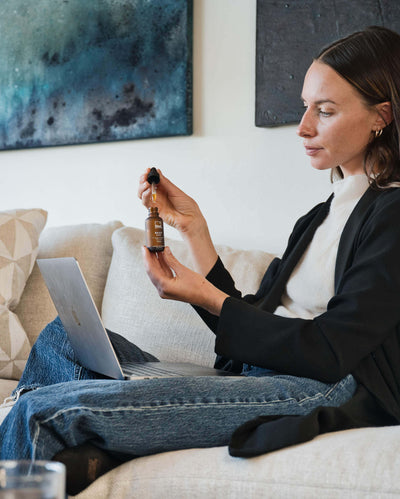 YOUR DAILY DE-STRESS BLEND RITUAL
1. Drop 1 ml (one full dropper) under your tongue once a day, every day. Take more as needed in times of severe stress.
2. Hold it under your tongue for 1 minute while you enjoy a moment of peace.
3. Swallow and smile
And remember the golden rule: consistency is the difference between feeling good and feeling great! Take a dropper a day, every day. Simple.
IT'S ONLY NATURAL
A peek inside De-Stress Blend
CANNABINOIDS
Cannabinoids are the compounds within hemp flowers that offer functional support for our body's endocannabinoid systems (ECS).
CBG, CBD, CBC
TERPENES
Terpenes and cannabinoids work together in maximizing the effects of one another to help support stress, balance, mood health, and beyond.
Caryophyllene, Bisabolol, Humulene, Linalool
BOTANICALS
A potent infusion of organic and wildcrafted botanicals infused with organic MCT oils to support resilience and a healthy stress response.
Ashwagandha, Cinnamon, Cardamom
Ancient Remedies for Modern Minds
Paonia, Colorado Paonia, Colorado Outdoor grown in
Ned's organically-grown hemp is cultivated on a small farm in the rich farmland of Paonia, Colorado, tucked away on the Western Slope of Colorado.

Paonia is nicknamed the Valley of Abundance, known for its abundant sunshine, nutrient-dense soil, and freshwater.
Jonathan Jonathan Farmer
Jonathan is a renaissance man in every sense of the word. A jack-of-all trades, he lives on his small farm with his endearing wife, two beautiful kids, and sweet farm dog. A naturalist at heart, Jonathan pours his wisdom and love into his craft, growing the best organically-grown hemp in the world.
CBG White, Special Sauce CBG White, Special Sauce Hemp Strains
CBG White - Incredibly dense flowers with a strong diesel nose, this terpene-rich strain is the perfect vessel for bringing a CBG-dominant strain into the Ned family.

Special Sauce - One of the best flowers for oil extraction on the planet, Special Sauce is a CBD dominant strain that has been a staple in Ned hemp products since 2018.
Cold organic ethanol Cold organic ethanol Extraction Process
We use a gentle and slow extraction method using food-grade organic ethanol at -40°F. We exclusively extract from hemp flowers, otherwise known as the "buds," which are the most cannabinoid- and terpene-rich part of the hemp plant.

After the cold extraction, the residual ethanol is gently lifted from the extract resulting in an incredibly aromatic, clean, and quality hemp oil.