How to Get the Most Out of Brain Blend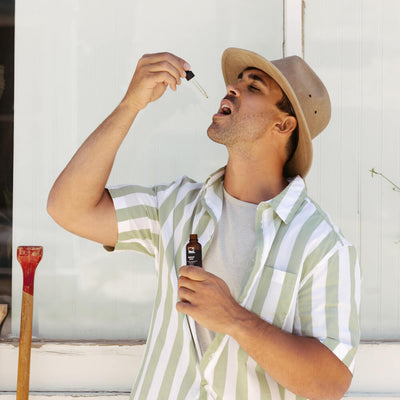 YOUR DAILY BRAIN BLEND RITUAL
1. Drop 1 ml (one full dropper) under your tongue once a day, every day. Take more as needed.
2. Hold it under your tongue for 1 minute while you enjoy a moment of peace.
3. Swallow and smile.
And remember the golden rule: consistency is the difference between good and great! Take a dropper a day, every day. Simple.
A peek inside Brain Blend
CANNABINOIDS
Cannabinoids are the compounds within hemp flowers that offer functional support for our body's endocannabinoid systems (ECS).
CBG, CBD, CBC
FUNCTIONAL MUSHROOMS
The fruiting body and mycelium of this medicinal mushroom help improve neurogenesis, which plays a critical role in repairing brain cells damaged by aging.
Lion's Mane
BOTANICALS + ADAPTOGENS
A potent infusion of organic and wildcrafted botanicals infused with organic MCT oils to support focus and brain health.
Ginkgo, Gotu Kola, Bacopa, Ginseng
WHAT THE EXPERTS SAY
Dr. Leaf's Guide to Brain Health
We've partnered with Dr. Leaf – the world's foremost cognitive neuroscientist and bestselling author on the brain – to help you supercharge your brain and get the most out of Brain Blend.